During your wedding planning you will find that there are a lot of little things you can do to make your wedding special and make your guests feel that way too. Setting up escort cards are a cute way to show that you care, along with helping the reception flow in much more smoothly.
Escort cards can easily be one of the most important pieces of stationary that you have at your wedding but do you know what they really are? Most people tend to think that "escort cards" are the same as "place cards" but they aren't. Place cards are the cards at the reception tables to show you exactly what seat you are in, and escort cards are what you take at the entrance of the reception or wedding to direct you to your table. This is something that minimizes a great deal of wandering bodies.
Along with the obvious reason for creating an escort card there are also a few other reasons that prove they are a good touch for your wedding. First, they would allow for you to show off your creativity. Second, they are just another way you can incorporate your theme into your wedding. Third, they can be super fun to make. And last, it could be a keepsake that your guests may want to take home!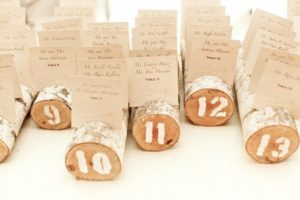 There are so many great ways one can create an escort card so your design is truly up to you! Check out this blog post on Brides.com for 35 INSANELY creative escort card ideas that you could use to add a great personal touch to your wedding. Explore your options and have fun while making yours!
Amber Bentley
Social Media Manager/Event Assistant
Devoted to Your Event, LLC